Our pupils will be spending more time outside during the summer term and hopefully we will enjoy a lovely summer.  It is important to protect our children from sun damage therefore can you please ensure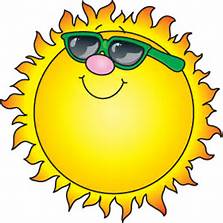 that you put high factor sun protector on your child before he/she comes to school in a morning. Children will also need hats to protect their heads. Water bottles are another essential piece of equipment, which can be replenished with chilled water from the water coolers in school.
Reminder:  Sandals are not appropriate footwear for school.