R.E. at Hillside:
Vision:
Subject Leader: Mrs Ashton
Subject Support Coach: Mrs Rushton
Link Governor: Jenny Craig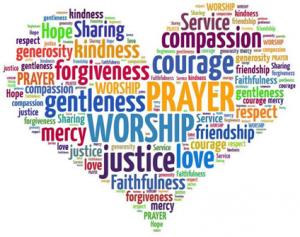 At Hillside, we aim to engage pupils in systematic enquiry into significant human questions which religion and worldviews address, so that they can develop the understanding and skills needed to appreciate and appraise varied responses to these questions, as well as develop responses of their own.
We follow the Stoke-on-Trent Agreed Syllabus for Religious Education 2016. This syllabus offers increased flexibility and extra support for planning as well as providing practical strategies, guidance and resources for teachers. Religious Education provides rich opportunities for children and young people to learn about things that matter in the lives of local people and the wider world. This agreed syllabus enables pupils to study beliefs, teachings and ways of living, and is structured so that they can explore a range of responses to questions of identity, meaning, purpose, values and commitments. In the process they can examine and reflect upon 25 their own ideas and values. At a time when religious beliefs guide the lives of billions of people worldwide, understanding people's views can be a first step to recognising and appreciating diversity. This is particularly important at a time of global tensions. This agreed syllabus inspires creative, challenging and thoughtful Religious Education to promote personal development. It offers support and guidance for teachers to enable Stoke-on-Trent pupils to make excellent progress. It encourages a thoughtful and questioning approach to life and seeks to lay the foundation for schools, so that their pupils grow in understanding of themselves and the world in which they live, preparing them for life in Britain today.

Subject Leader
I am Mrs Ashton, R.E subject leader here at Hillside Primary School. I have the important role of monitoring and developing the teaching and learning of R.E. in order for the pupils at our school to make the best possible progress. I am also responsible for auditing resources and CPD requirements to ensure that our resources and training are as up to date as possible.
As part of my role as R.E subject leader, I aim to ensure that teachers make links with other subjects, where appropriate, to ensure that R.E is not taught as a stand-alone subject. In this way, pupils are able to immerse themselves in the topics covered and gain a deeper understanding. See cross-curricular links below,
I have identified three key areas that underpin pupil's learning in R.E. : Believing, Expressing and Living. Pupils are taught the knowledge, skills and understanding of these areas, when learning about Christians, Muslims, Hindus and Jewish people.  Alongside this, the Principal aims for R.E. are taught and developed throughout each Key Stage and are detailed in the Progression map.
I attend regular Network meetings to ensure that I am aware of current updates and intiatives in R.E. I then cascade this knowledge to the rest of the staff in school. I also meet regularly with the schools in our Collaboration, Ball Green Primary and Burnwood Primary, to share good practice.  This has proved invaluable when assessing the development of R.E. in our school. Together as a collaboration we have introduced the highly successful Floor Books and also worked together applied for the REQM (R.E. Quality Mark Award) in recognition of our successes in R.E. I am pleased to say that Hillside achieved the Silver Award for this in June 2019.
To ensure that these high standards are maintained, I monitor the Teaching and Learning on a termly basis, complete floor book scrutinies, pupil interviews and monitor the termly assessments that are uploaded onto our school's assessment system. Feedback is given to staff for areas of development.
I fully believe that with consistently high, quality teaching all pupils will be able to share their knowledge and understanding of religions and worldviews, recognising their local, national and global contexts. They will recognise an extended range of sources and subject specific vocabulary. They will be curious and ask increasingly challenging questions about religion, belief, values and human life. Pupils will learn to express their own ideas in response to the material they engage with, identifying relevant information, selecting examples and giving reasons to support their ideas and views.
Curriculum
Principal aim
The principal aim of RE is to engage pupils in systematic enquiry into significant human questions which religion and worldviews address, so that they can develop the understanding and skills needed to appreciate and appraise varied responses to these questions, as well as develop responses of their own.
The curriculum for RE aims to ensure that all pupils:
Know about and understand a range of religions and worldviews, so that they can:
describe, explain and analyse beliefs and practices, recognising the diversity which exists within and between communities and amongst individuals
identify, investigate and respond to questions posed, and responses offered by some of the sources of wisdom found in religions and worldviews
appreciate and appraise the nature, significance and impact of different ways of life and ways of expressing meaning.
Express ideas and insights about the nature, significance and impact of religions and worldviews, so that they can:
explain reasonably their ideas about how beliefs, practices and forms of expression influence individuals and communities
express with increasing discernment their personal reflections and critical responses to questions and teachings about identity, diversity, meaning and value, including ethical issues
appreciate and appraise varied dimensions of religion.
Gain and deploy the skills needed to engage seriously with religions and worldviews, so that they can:
find out about and investigate key concepts and questions of belonging, meaning, purpose and truth, responding creatively
enquire into what enables different individuals and communities to live together respectfully for the wellbeing of all
articulate beliefs, values and commitments clearly in order to explain why they may be important in their own and other people's lives.
When planning, teachers at Hillside consider how their teaching contributes towards the principal aim of RE in the local area, and how they help pupils to achieve the threefold aim.
This agreed syllabus requires that all pupils learn from Christianity in each key stage. In addition, pupils will learn from the principal religions represented in the UK, in line with the law. These are Islam, Hinduism, Sikhism, Buddhism and Judaism. Furthermore, children from families where non-religious worldviews are held are represented in almost all of our classrooms. These worldviews, including for example Humanism, will also be the focus for study.
Religious traditions are to be studied in depth as follows:
Schools should consider the pupils they serve in deciding whether to go beyond the minimum entitlements to learning about religions, which are that pupils should learn from:
4–5s Reception Children will encounter Christianity and other faiths, as part of their growing sense of self, their own community and their place within it.
5–7s Key Stage 1 Christians and Muslims or Jewish people
7–11s Key Stage 2 Christians, Muslims, Hindus and Jewish people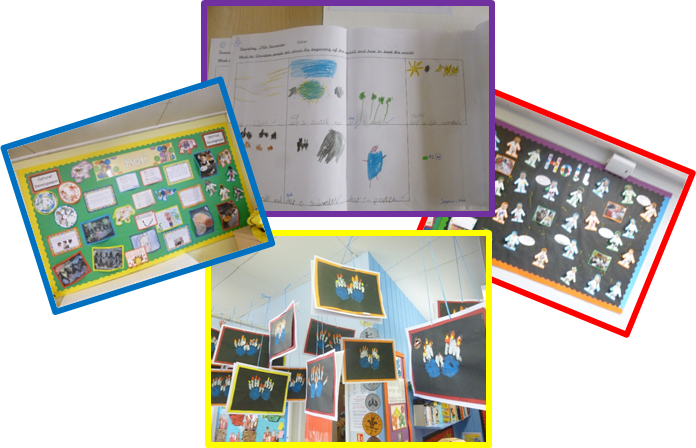 The contribution of R.E. to teaching in other curriculum areas
English
All religions studied at Hillside have a host of stories linked to them so English is an integral part of R.E. teaching at our school. At EYFS and Key Stage 1 level, the majority of topics taught begin with learning about stories linked to particular religions. Children are asked to retell these stories either in written form or through the medium of dance or drama. Many religious festivals also have stories linked to them, so the children gain a deeper understanding of each religion through learning these stories.
Mathematics
The teaching of R.E. can contribute to children's mathematical understanding in a variety of ways, In our school a variety of maths skills have been developed through R.E lessons. The use of Timelines to depict historical Religious data has been used in Key Stage 2, as has Percentages when finding the number of different religions in Stok-on-Trent. Pattern and shape in R.E. are a reoccurring theme with the Tessellation in patterns in churches and mosques and the Symmetry found on crosses. Measurement can be introduced when learning about David and Goliath and Children in the EYFS and Key Stage 1 enjoy counting Noah's animals in twos! Older children can work out the time difference between BC (Before Christ) and AD (Anno Domini, and younger children can practise their counting skills through a range of stories in the Bible.
Social, Moral, Spiritual and Cultural (SMSC) education.                                                    
The R.E. curriculum forms an important part of our school's spiritual, moral and social teaching.
At Hillside, we promote Spiritual development by experiencing wonder and joy through learning about and from stories, celebrations, rituals and different expressions of religion and worldviews. By asking and responding to questions of meaning and purpose – visits from local religious teachers for Key Stage 2 and local church visits for EYFS and Key Stage 1. By considering questions about God and evaluating truth claims. We also promote spiritual development by exploring spiritual practices such as worship and prayer, and considering the impact of these on believers and any relevance to their own life –church visits and questions regarding these (Year groups visit local churches as part of their topics and Year 4/5 visit the local Mosque and Synagogue as part of a Faith Trail. The whole school visits the local church in Milton annually for Easter and Christmas services, where the children are active participants in the proceedings.)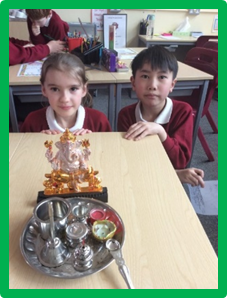 We promote Moral development by exploring morality including rules, teachings and commands such as The Golden Rule. The Ten Commandments compared to Jewish sacred texts about morality, and how these interlink. By exploring religious perspectives and responses to evil and suffering in the world. By exploring the qualities which are valued by a civilised society – thoughtfulness, honesty, respect for difference, independence and interdependence (Year groups look at how different faiths deal with these and other qualities).
We promote Social development by asking questions about the social impact of religion. By exploring similarities and differences between faiths and cultures. By engaging with text, artefacts and other sources from different cultures and religious backgrounds E.g Year 1 look at parables from the Bible and Year 5 look at Places of Worship and visit a range of special buildings. By visiting different places of worship, asking questions and engaging with visitors of different faiths, the children at Hillside develop a sense of social justice.
Our teaching and learning styles in RE enable children to build on their own experiences and extend their knowledge and understanding of religious traditions. We use their experiences of religious festivals to develop their religious thinking and encourage children in carrying out research into religious topics. Children discuss religious and moral issues in various group situations, using computing and drama to explore learning further. We also take the opportunities that the teaching of RE provides to promote a positive attitude towards other people, respecting their right to hold different beliefs from their own and towards living in a society of diverse religions
Personal, Social, Health and Citizenship Education (PSHCE), British Values (BV) and Computing
RE is a flagship subject for championing and promoting the teaching of thinking skills, British Values and has many links to PSHE. It provides opportunities for pupils to ask questions, seek answers and develop ideas in a quest to discover more about their own identity and that of others. Within their learning in RE, pupils develop specific attitudes that are open, reflective, and critical and a skill base which allows them to be curious, play with ideas, empathise, listen, imagine, question, make links and reason.
Information and communication technology enhances our teaching of R.E. wherever appropriate in all key stages. The children use ICT in a variety of ways such as word processing, finding information on the internet and presenting information via PowerPoint.
Geography
Geography goes hand-in-hand with many of the topics taught within R.E. It is fundamental that, when learning about different cultures and religion across the wider world, children have some understanding of the locality and origins of these cultures. Atlases are used to track the wide variety of journeys taken by key figures in history.
Art
Art is a subject that links particularly well with R.E. The children at Hillside are encouraged to explore the ways in which religions express meaning through art, or study past cultures and see what kind of art they created and consider the way that the religion of those peoples may have inspired or informed their art. On any visit to a place of worship, the architecture, images and pictures will be of central importance. For example at Milton church there are stained glass windows and although at the local Mosque in Normacot there will be an absence of images, decorative use of calligraphy and geometry will be seen.
Educational visits and visitors
At Hillside, we place great importance on educational visits and visitors to enhance the R.E. curriculum. These visits provide rich opportunities for children and young people to learn about things that matter in the lives of local people and the wider world.
Each Easter and Christmas, the whole school visits the local Parish Church in Milton for a service. At Easter time, each class contributes to the service with a poem or song and at Christmas time, a variation on the Christmas Nativity is performed by the children in Key Stage 2.
Hillside has invited a number of religious leaders into school to supplement the children's learning including a local Jewish Rabbi and ministers from different branches of Christianity.
Each year a group of pupils attended the annual R.E. conference. The aim of the annual conference is for the pupils to learn from one another through shared experience and dialogue. A variety of themes are explored on this day and the children feed back to the rest of the school.
Each term, we hold a Celebration of R.E. day. Each day has a specific theme that is studied through the 4 religions, Christianity, Islam, Judaism and Hinduism. Examples of activities that take place on these days are Bhangra dancing, where a fantastic Indian dancer was invited to school, multi-cultural food tasting, with food provided by the S-o-T catering department and a change around day where the children moved classes each hour to work with different teachers. The children particularly enjoy these days and learn a lot.
Assessment for learning 
The learning outcomes in the Stoke on Trent Agreed Syllabus support teachers at Hillside in assessing whether pupils are on track to meet end of key stage expectations.  Assessment requires teachers to know what individual pupils know and can do. The learning outcomes on each key question outline will help teachers to assess this, and to devise appropriate learning activities to enable pupils to secure their understanding and skills. 
Schools need to be able to track progress of pupils. Again, the 'emerging, expected and exceeding' outcomes on each key question will allow teachers to track progress across a year group. This is because the outcomes have been written to assist pupils in moving towards the end of key stage outcomes, which is why the key question outlines have been linked to recommended year groups.   
R.E. floor books have been introduced in all classrooms, displaying examples of children's work/photographs and post its. Teacher's use this evidence alongside ongoing observations to make an accurate judgments of a child's progress in R.E. Assessments are then recorded using the Hillside assessment procedure.