The EYFS (Early Years Foundation Stage) at Hillside Primary School
Our Vision
Subject Leader: Mrs Ashton
Link Governor: Sarah Else
Our mission within the Early Years Foundation Stage is to be a caring school that works hard towards our school motto which is: 'Developing the Individual'. We strive to provide an environment where the children are inspired and develop interests in learning for life, within a happy, creative and secure environment. The Foundation Stage is the start of the children's school life and we believe that we create strong foundations for the children which embed good attitudes for learning. These foundations are the building blocks to support children on their journey through a happy and successful life in education.
In our Foundation classes, the children learn the skills needed to become strong, confident individuals who are capable of learning and achieving through positive relationships, enabling environments and an understanding that every child is unique. The four themes of the EYFS underpin all the guidance.
These four themes are what the staff at Hillside Primary integrate into their daily practice.
A Unique Child – This is based on the principle that every child is a competent learner and can be resilient, capable and confident.
Positive Relationships – This highlights the importance of children having loving and secure relationships with parents and carers, in order to become strong and independent.
Enabling Environments – This recognises the key role a child's environment plays in supporting and extending their development and learning.
Learning and Development – This is based on the knowledge that children develop and learn in different ways and that all areas of learning are interconnected and equally important.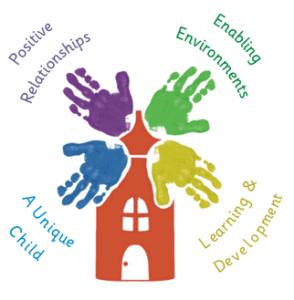 At Hillside, the children follow the EYFS in their Foundation Years. This will be spent in our Nursery and Reception classes. Through interactive learning, children follow the curriculum areas to build up key basic skills in the seven areas of learning. Teachers carefully observe children to understand what they can do, how children are learning well and use this information to plan the next steps in their learning. Whenever possible the children's interests are used to inspire and engage deep learning. Learning takes place indoors and outdoors, in all weathers and teaching can be direct in small or large groups, guided by the teacher or sometimes independent in response to a specific task or learning opportunity. These lessons and learning opportunities are planned to ensure children can apply their basic skills confidently and prepare them for the later stages of schooling in year 1.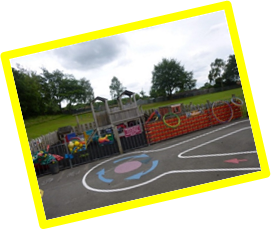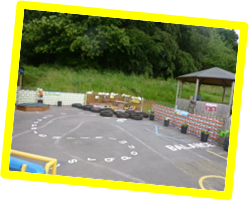 The children at Hillside are introduced to new ideas and further thinking through the seven Areas of Learning and Development: The first three are known as the Prime Areas and develop quickly in response to relationships and experiences. These support and scaffold the four Specific areas which include essential skills and knowledge to ensure that children have the best possible start to their learning journey.
The prime areas are Personal, Social and Emotional Development, Physical Development and Communication and Language. These are fundamental because they work together to support development in the other areas. The developmental statements in these areas help practitioners to identify and plan for the children's individual interests and abilities.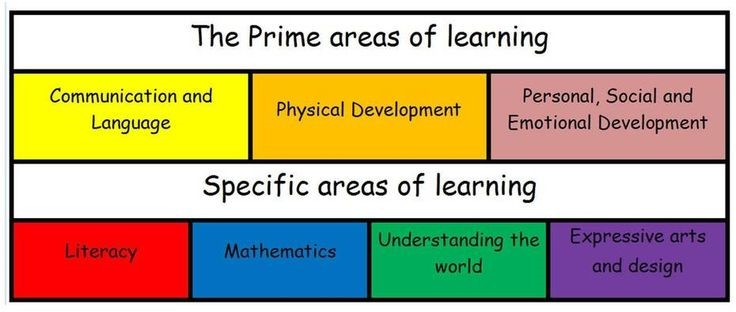 Personal, Social and Emotional Development –This area looks at supporting children to develop a sense of themselves, social skills and respect for others and a positive disposition to learn. Children's emotional well-being also needs to be supported in order to help them understand and manage their feelings and behaviour.
Physical Development –This area looks at supporting children in using their senses and bodies to explore the world around them and make connections between new and existing knowledge. They should have the chance to be active and interact with things to improve their skills of coordination, control, manipulation and movement. Children also need to develop an understanding of healthy living practices.
Communication and Language –This area looks at supporting children's developing competence in listening and understanding as well as speaking and communicating. Children should be given opportunities to build these skills and gain the confidence to use them in a range of situations.
Literacy –This area focuses on learning the skills needed for reading and writing.
Mathematics –This area looks at supporting children to develop their understanding of numbers, calculating, shapes, space and measures.
Understanding the World –This area looks at supporting children in developing the knowledge, skills and understanding to help them make sense of their world.
They should be able to explore creatures, people, plants and objects and undertake practical 'experiments.'Expressive Arts and Design –This area looks at supporting children in developing their creativity by providing a range of opportunities, materials and media in which to express themselves and use their imaginations. The children should be encouraged to explore and share their thoughts, feelings and ideas.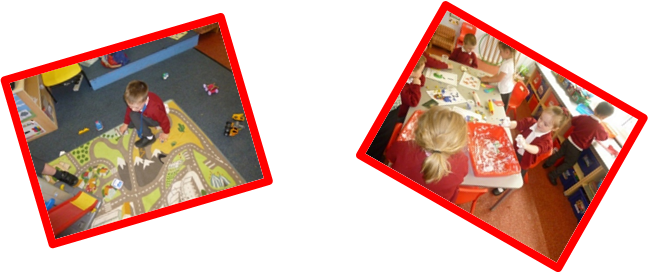 These skills, experiences and learning opportunities are presented to the children through meaningful play contexts and adult led activities which ensure that each child has the opportunity to develop their own characteristics of effective learning.

The Characteristics of Effective Learning and the prime and specific Areas of Learning and Development are all interconnected and all staff in the EYFS have a deep understanding of how each child learns and is able to tailor the teaching experiences appropriately.
Curriculum Design
In the EYFS at Hillside Primary, the curriculum is designed to recognise children's prior learning from previous settings and their experiences at home, provide first hand learning experiences, whilst allowing the children to build resilience, ambition and integrity. Every child is recognised as a unique individual and we celebrate and welcome differences within our school community. The ability to learn is underpinned by the teaching of basic skills, knowledge, concepts and values. We provide enhancement opportunities to engage learning and believe that our first experiences of school should be happy and positive, enabling us to develop a lifelong love of learning.
Throughout their time in the EYFS, the children develop a sense of belonging to our school community, ready to transition to year 1 the following academic year. They have the confidence and skills to make decisions and self-evaluate, make connections and become lifelong learners.
We do this by working in partnership with parents and carers to encourage independent, happy learners who thrive in school and reach their full potential from their various starting points. We understand and follow children's interests and provide opportunities throughout our EYFS curriculum to support learning, consolidate and deepen knowledge and ensure children meet their next steps. We create an indoor and outdoor environment which supports learning. We prepare children to reach the Early Learning Goals at the end of the Foundation Stage and ensure children make at least good progress from their starting points. We support transition into KS1.
Growth Mindset
At Hillside Primary School, we know that pupils who have a positive attitude towards their learning will make good progress and be successful. Consequently, instilling all our pupils with 'Growth Mindsets' is a key priority for the school and is embedded in our teaching and learning in the EYFS. We want all of our pupils to relish challenges, embrace their mistakes as part of the learning process, value the importance of effort, respond carefully to feedback and take inspiration from others. This will help them to achieve, not only with us, but also in their future lives as adults.


Parental partnerships:
At Hillside, we recognise that parents are children's first educators and we value the contribution they make. We recognise the role that parents have played, and their future role, in educating the children. We do this through:
Sending home a booklet introducing the staff in the EYFS classrooms and the classroom environment.
Sending a Powerpoint with photos and information about the children's first days in school.
talking to parents about their child before their child starts in our school;
liaising with Pre-school providers to discuss the new intake
inviting the children to spend time with their teacher before starting school during 'Stay and Play' and Transition week, sessions
inviting parents to an induction meeting during the term before their child starts school;
offering parents regular opportunities to talk about their child's progress through the use of Class Dojo
encouraging parents to talk to the child's teacher if there are any concerns. There is a formal meeting for parents each term at which the teacher and the parent discuss the child's progress in private with the teacher. Parents receive a report on their child's attainment and progress at the end of each school year;
arranging a range of activities throughout the year that encourage collaboration between child, school and parents: Stay and Play sessions, Class assemblies, Sports Day etc;
providing space in the children's 'Learning Journey' for parent questionnaires and Wows from home (certificates celebrating achievements outside of school.)
All staff involved with the EYFS aim to develop good relationships with all children, interacting positively and taking time to listen. At our school the EYFS teachers act as the 'Key Person' to all children in their class, supported by the Teaching Assistant.
Early Intervention
Early intervention in the EYFS helps to keep all children on a path to making the most of their abilities and skills developed during the early years. During transition periods, Staff work closely with pre-school providers and parents to ensure that if there are any concerns that a child is not meeting their age-related milestones, advice is sought promptly. An appointment would then be made with our SENCO, Mrs Rushton.
Assessment in the EYFS
In the EYFS, children are assessed on entry to Nursery by the class teacher using the Early Years Curriculum. This gives the teacher a 'baseline' from which progress throughout their time in Nursery is tracked. The Nursery baseline data can then be analysed and used to inform future planning, based on the needs of individuals and groups of children. Ongoing assessments then continue on a weekly basis with more formal assessments taking place at the end of each term. Meetings are held to discuss the progress of the children with the class teacher and Headteacher.
Children are assessed within the first 6 weeks of Reception by the class teacher using the online Reception Baseline Assessment tool. This gives the teacher a 'baseline' from which progress throughout their time in Reception is tracked. The school's Reception baseline data is analysed and reported to the government, providing a picture of the cohort as a whole, different groups of children as well as individual children. Ongoing assessments then continue on a weekly basis and the data is used to inform future planning. This data is also analysed by the EYFS lead to monitor progress and predict outcomes at the end of EYFS. Meetings are held to discuss the data with the class teacher and Headteacher.
At the end of Reception, children are assessed against the Early Learning Goals.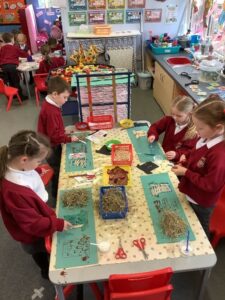 Pupil Voice
At Hillside, we place great emphasis on the views of our pupils, not only to ensure the understanding and progression but also to review the curriculum and make adaptations where necessary.
Here is a selection of Pupil voice collected in the Summer Term.
Nursery Child – 'I like building stuff with the blocks'
Nursery Child – 'I like drawing pictures of a giraffe.'
Nursery Child – 'I like going outside on the bikes, and doing phonics cause I like writing.'
Nursery child- 'I love phonics, I like the games.'
Reception Child –'I like playing with cars. I like making them go fast down the ramp.
Reception Child –'I love playing on the board, drawing a palace.'
Reception Child –' I I like finding insects and stuff up the woods.'
Transition to Year 1
The move from Reception to Year 1 is a key transition in a child's education, as it is when they move from the EYFS to Key Stage 1 and the start of more formal schooling. This needs careful planning and preparation, and at Hillside, Reception and Year 1 staff work together to ensure a smooth transition and continuity. In July, a whole school Transition week is planned for, to enable all children to meet the staff they will be working with in September, as well as familiarising themselves with the new classroom environment.
The end-of-year EYFS profile for each child in Reception is shared with parents and the Year 1 teacher, to provide them with a well-rounded picture of the child's knowledge, understanding and abilities, their progress against expected levels and their readiness for Year 1.
This information is used to support a smooth transition to Key Stage 1 and help Year 1 teachers to plan an effective and appropriate curriculum that will meet the needs of all the children