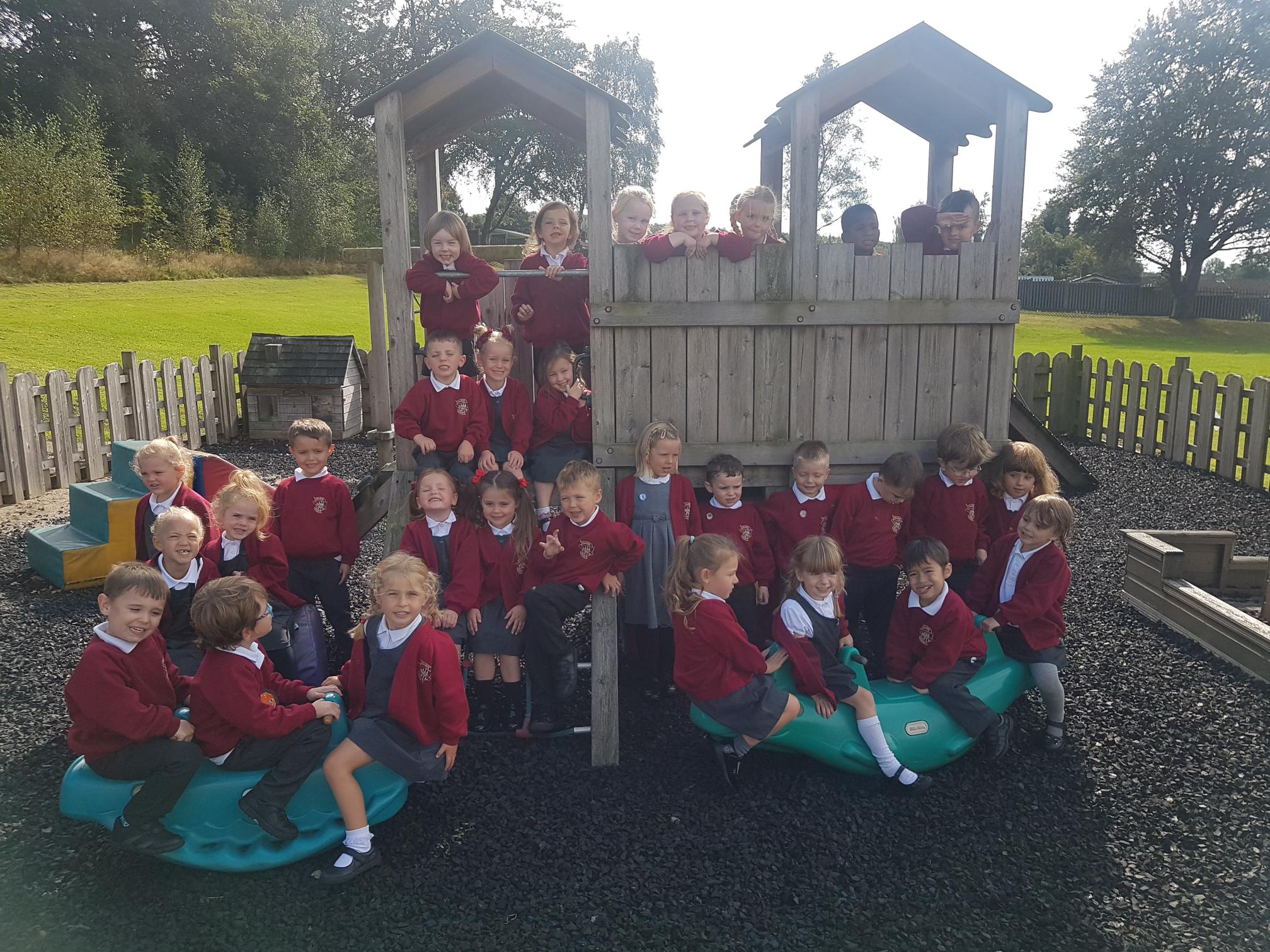 Welcome to Reception. We are a happy, friendly and inclusive class of children. Mrs Ashton is our Teacher and Mrs Dixon is our Teaching Assistant. We love to learn through independent play and our classroom enables us to do this well. We are given lots of opportunities to develop our own ideas and use the exciting resources provided to help us learn.
We use both the inside and outside areas for our learning and this gives us a greater scope. One of our favourite activities is Forest School, which we do most Wednesday afternoons in our very own school woodland area. It's amazing!  There we are given the freedom to investigate and explore in a safe and stimulating environment. We do lots of different activities in the woods including treasure hunts, artwork, numberwork and of course the odd game of 'Hide and Seek!'
In Reception we love to keep fit and learn about different ways to be healthy. Fitzy Fox, our class mascot helps us to do this. We have so much fun using the scoop and ball set, skipping rope and the range of other exciting resources. We also enjoy using the outside climbing area to jump, climb, balance and swing. Each week, Ben our P.E. teacher helps us to develop our physical skills through a range of exciting activities. To promote our mental wellbeing, we hold daily meditation sessions which is a lovely, calming and relaxing time. We also have weekly yoga sessions which are beneficial for our bodies, as well as our minds.
We are given lots of opportunities to develop our speaking and listening skills in Reception.  One of our favourites is 'Talking Time'. Each week, a group of children is chosen to share any exciting news or thoughts in front of the class. Our classmates have the opportunity to ask questions to find out more. We also use the Talk For write' method in class, where we learn to retell popular stories independently, as well as 'Helicopter' stories, where we make up our own stories to act out.
We have lots of exciting topics throughout the year that help us to learn including 'Celebrations' where we learn about how different cultures celebrate different occasions, 'Food' where we do lots of yummy cooking and food tasting and 'Our Favourite Things' where we are allowed to choose what we learn about.
We have lots of fantastic opportunities throughout the year to explore the world outside our school environment.  As we are now allowed to organise school trips once again, we will be taking this opportunity to plan even more exciting events for your children, as well as exploring our local area as much as possible through local walks.
As you can see, learning in Reception at Hillside is lots of fun