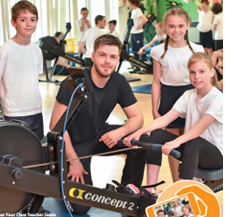 Here at Hillside, children have the opportunity to take part in indoor rowing lessons in year 5 and 6. We have 10 Concept2 rowing machines provided through funding from Stoke-on-Trent's selection as the European City of Sport. The rowing machines have ignited great interest in many of the children: it is a sport that many have not had the opportunity to take part in before. Nevertheless, our children's enthusiasm is a pleasure to see. There is a supportive feel to each class as children encourage each other to beat their personal bests.
In the sessions, children work on their technique, speed and race change-overs. The results have been positive both on and off the machines with children showing a healthy competitiveness and determination to improve. Children compete in a number of different timed challenges and also have the opportunity to race against their friends when the machines are connected together. They keep track of their own improvement through their own small rowing logs. They also have the opportunity to take part in an extra-curricular rowing club, which has proven to be very popular with around 75% of year 5 staying on after school.
The after school rowing club is comprised of a variation of children:  those who live active lifestyles and for whom sport is a fundamental part of their life and children who in the past have appeared to be less enthusiastic about sport and P.E. Rowing has opened a pathway for the latter of these children to access a fun way of taking part in sport.
Rowing has helped me to get fitter and live a healthier lifestyle. It's fun because you can compete in races against your friends. (Sophie – Year 5)
Rowing has helped me with my fitness. The better I get at rowing, the more it is helping my performance as a runner. I enjoy racing and keeping track of my progress. (Miller – Year 5)
Rowing is good because it is fun and it has helped me with my concentration. It is nice to take part in a different sport that I have not had the opportunity to do before. (Will – Year 5)
The suspense and build up before each race is exciting and scary all at the same time. The change-overs have helped me to build my teamwork skills and performance in rowing. (Izzie – Year 5)