History at Hillside:
Vision: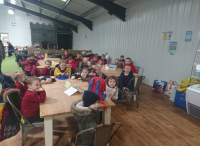 History is lead with fascination by Mr Soboljew
Subject Support Coach: Mr Frost
Link Governor: Kelly Meir
At Hillside, we recognise history as being a medium through which pupils can understand, enjoy and appreciate the world in which we live. We believe that the teaching of fun, engaging lessons that bring history to life is seminal in developing children to enjoy learning and thus become life-long learners. This fundamental belief means that we pride ourselves on delivering a high-quality education which helps pupils gain a coherent knowledge and understanding of Britain's past and that of the wider world.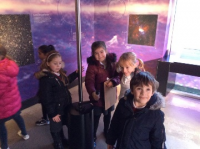 We appreciate the value of enquiry based learning and therefore have designed our curriculum so that history lessons foster opportunities for children to be inspired and ask questions why. Pupils construct informed responses to their own questions that involve thoughtful selection and organisation of relevant historical information. This involves taking children through significant periods in history from the Stone Age to World War II. The alignment of the history curriculum with the English curriculum ensures that children are immersed fully in their topics. Often, a pupil's author of the term, or a book on which a series of English lessons are focussed, provide the foundations on which children develop their understanding of a historical topic. Through utilisation of a variety of teaching and learning styles, pupils are motivated to enquire, weigh evidence, sift arguments and think critically as they focus on recent eras of history, significant individuals and ancient civilisations from all around the world.
Please click below to see our long term plan.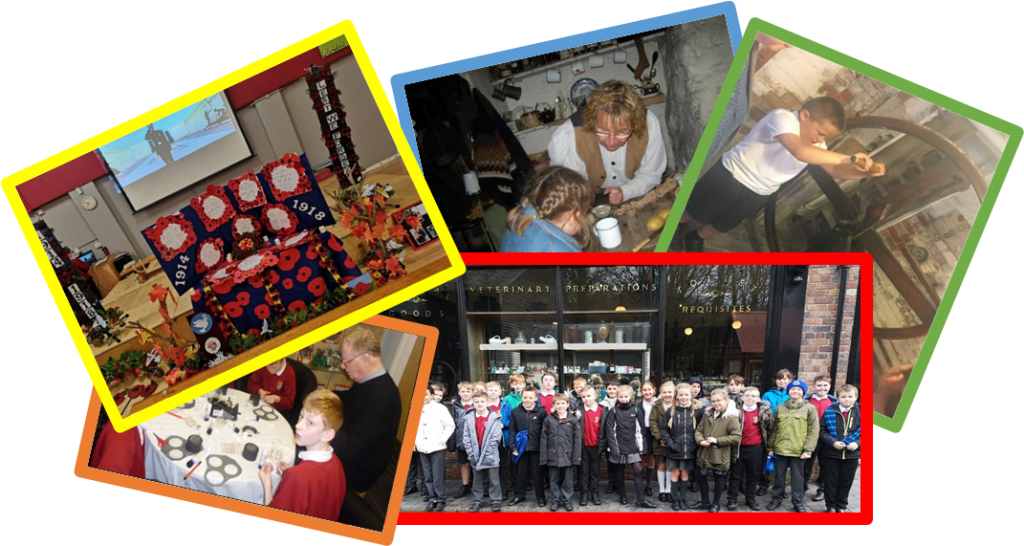 The Subject Leader:
I am Mr Soboljew, history subject leader here at Hillside Primary school. My role is crucial in developing history teaching, learning and resources across the school so as best to support teachers, motivate pupils, monitor progress and achieve consistently high standards.
A priority of mine is to ensure that history is not taught as a stand-alone subject, but rather is a cornerstone that a large portion of the curriculum is centred around. To immerse children fully in history, I want it to feature in as many relevant curriculum areas as possible so that lessons complement each other and children's learning is holistic. As a school, we used history as a starting point from which we have sought to make links between our subjects.
I have identified four key skills areas which I believe children require to become effective historians. These are chronological understanding, vocabulary, historical knowledge and questioning. These key skills are made up of a number of expectations, which progress in difficulty through the year groups (see progression map below for more information).
To stay on top of my subject, I ensure that I attend relevant CPD opportunities and disseminate learning from these in staff meetings. Within school we have a collaborative approach to subject leadership and good practise is often shared amongst staff. In order to gain an understanding of how history is taught across the school, I ensure that my subject is monitored termly, gaining evidence from books and pupil voice. This informs the strengths and areas for development in my subject, which I share with staff individually. As part of 'The Collaboration for Success' with Burnwood and Ball Green Primary, I attend termly meetings with history subject leaders from these schools in order to share ideas and gather an insight into other initiatives. One of the significant impacts that this partnership has had is that each leader has created a topic box for a given historical topic, with the intention that the boxes can be shared across the three schools, giving schools greater access to artefacts and primary sources of evidence.
I whole-heartedly believe that with a coherent understanding about the past, children can enter the world more informed to make decisions which will impact the future. That is why I set the expectation that by the time children leave Hillside, they should be able to sift through arguments, weigh evidence and draw conclusions for themselves. They should be able to independently choose their own relevant sources of information, use sophisticated language, talk confidently about different eras and ask perceptive questions.
Curriculum
The objectives for History in KS1 and KS2 are clearly set out for each year group in the National Curriculum:
Key Stage 1:
Pupils should be taught about:
Changed within living memory. Where appropriate, these should be used to reveal aspects of change in national life
Events beyond living memory that are significant nationally or globally for example: Great Fire of London, the first aeroplane flight or events commemorated through festivals or anniversaries
The lives of significant individuals in the past who have contributed to national and international achievements. Some should be used to compare aspects of life in different periods [for example, Elizabeth 1 and Queen Victoria, Christopher Columbus and Neil Armstrong, William Caxton and Tim Berners-Lee, Pieter Bruegel the Elder and LS Lowry, Rosa Parks and Emily Davison, May Seacole and/or Florence Nightingale and Edith Cavell]
Significant historical events, people and places in their own locality.
Key Stage 2
Pupils should be taught about:
Changes in Britain from the Stone Age to the Iron Age.
The Roman Empire and its impact on Britain
Britains settlement by Anglo-Saxons and Scots.
The Viking and Anglo Saxon struggle for the Kingdom of England to the time of Edward the Confessor.
A local history study.
A study of an aspect or theme in British history that extends pupils' chronological knowledge beyond 1066
The achievements of the earliest civilisations – an overview of where and when the first civilisations appeared and a depth study of one of the following: Ancient Sumer; The indus Valley, Ancient Egypt; The Shang Dynasty of Ancient China.
Ancient Grece – a study of Greek; life and achievements and their influence on the western world.
A non-European society that provides contrasts with British history – one chosen from: early Islamic civilisation, including a study of Baghdad c. AD 900; Mayan civilisation c. AD 900; Benin (West Africa) c. AD 900-1300
Early Years Foundation Stage
We teach history in reception classes as an integral part of the topic work covered during the year. As the reception class is part of the EYFS curriculum, we relate the historical side of the children's work to the objectives set out in the Early Learning Goals (ELG's) which underpin the curriculum planning for children aged 3 to 5. History makes a significant contribution to developing a child's understanding of the world (UTW) through activities such as  talking about things they have done in the past and discussing the meaning of vocabulary such as 'new' and 'old'. Children are regularly asked to recall what they have done at the weekend or over the half-term holidays and, during some educational trips, they look at new and old buildings and transport – such as steam engine.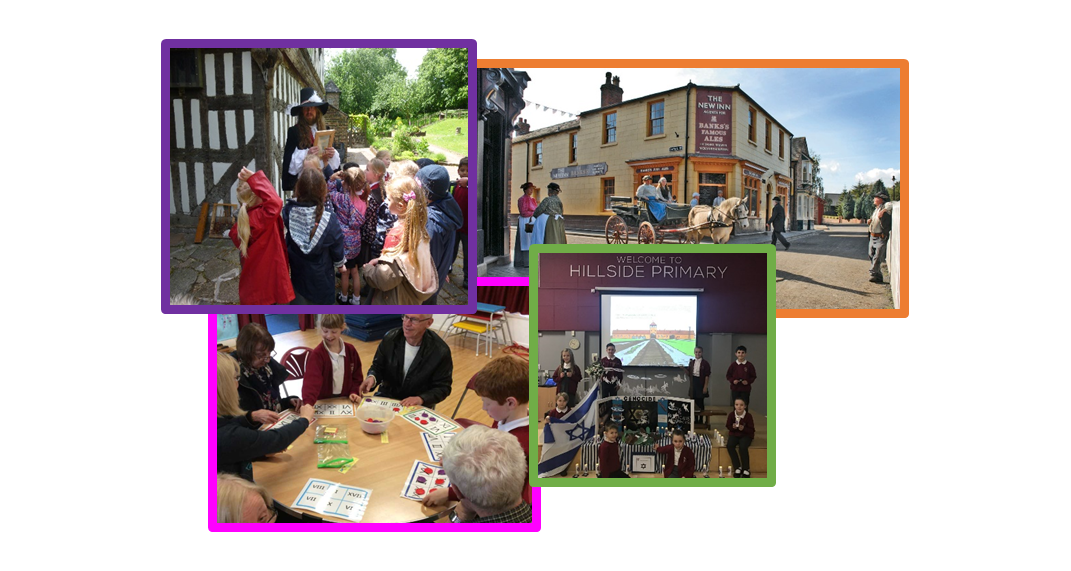 The contribution of History to teaching in other curriculum areas
English
At our school, we have aligned our curriculum so that most history topics in each year group are taught alongside an English unit relevant to that era: The Victorians topic in history is taught alongside Charles Dickens' 'Christmas Carol' and Berlie Doherty's 'Street Child'; understanding of the Romans is supplemented through the legend of Romulus and Remus; children are immersed in their learning of Anglo-Saxons  through an English unit focused on Michael Morpurgo's 'Beowulf' novel; and the topic of the stone-age is embedded through study of the 'Stone-age Boy' text. This not only ensures that historical knowledge is developed in English lessons, but also that children are more able to empathise with people of that era, and immerse themselves in the type of archaic language and writing styles that were used during that time.
Mathematics
The teaching of history contributes to children's mathematical understanding in a variety of ways. Children learn to use and order numbers when developing a sense of chronology through activities such as creating timelines and sequencing events in their own lives. Children also learn to interpret information presented in graphical or diagrammatic forms.
In key stage one, children may order events from oldest to most recent, or collect data about parents' favourite toys; whereas in key stage two, children may be required to design their own timeline given the dates provided, draw nets of buildings or create line graphs to present data.
Personal, Social, Health and Citizenship Education (PSHCE)
Staff at Hillside are very passionate that children understand that having a comprehensive understanding of the past can influence positive change for the future. Therefore we ensure that history contributes significantly to the teaching of Personal, Social, Health and Citizenship Education. Children develop self -confidence by having opportunities to explain their views on a number of social questions such as how society should respond to poverty and homelessness or whether they think modern toys are better than old toys. Children are given the opportunity to respond ethically to questions such as 'were the Mayans really brutal, or did they just not know any different?' and 'were the Greeks really great?'
In addition, they discover how to be active citizens in a democratic society by learning how laws are made and changed. They learn that society is made up of people from different cultures and start to develop respect and tolerance for others.
ICT
Information and communication technology enhances our teaching of History wherever appropriate in all key stages. The children use ICT in a variety of ways such as word processing, finding information on the internet and presenting information via PowerPoint.
Geography
Geography goes hand-in-hand with many of the topics taught within history. It is fundamental that, when learning about civilisations across the wider world, children have some understanding of the locality of these civilisations and the types of settlements that different civilisations made. It's common-place, here at Hillside, to walk into a history lesson and find children exploring atlases, looking at globes or using 'digimaps' to compare old road maps with modern-day maps and find grid-references of old establishments. When learning about people such as Christopher Columbus, it is valuable to know the locality of his travels in comparison to that of Europe.
Art and D.T.
Every term, each class has an artist and designer of the term. These are chosen with relevance to the topic during that time; therefore are regularly people of the past who have influenced and inspired different generations. Children look at the work produced by such artists and designers and try to recreate some of the styles that they demonstrate in their work, using the colours and patterns relevant to that time.
Educational visits
We place great importance on educational visits and visitors to enhance the History curriculum. These visits allow our children to think for themselves, make connections to what they've learnt in class and construct their understanding from a range of primary and secondary sources of evidence. These trips, alongside various other strategies discussed above allow teachers to facilitate learning so that pupils can note connections, contrasts and trends over time and are more holistically developed to enter the world as wider informed individuals. Such visits include:
Nursery visit to Amerton farm where they ride a steam engine.
Reception go on a local walk and discuss old and modern buildings.
Year 1 visit Brampton toy museum to look at how toys have changed through history; in addition, they go to Ford Green Hall to look at the type of houses around during the Great Fire of London.
Year 2 go to Jodrell Bank to supplement their learning of Neil Armstrong; they also visit Llandudno to explore how seaside towns have changed throughout history.
Year 3 visit Gladstone Pottery museum to look at how Stoke-on-Trent was revolutionised by the pottery industry.
Year 4 are immersed in the life of a Roman soldier as they visit the Dewa Centre in Chester.
Year 5 visit Churnet Valley to help them understand what life would have been like for a World War Two evacuee.
Year 6 are immersed in their topic of the Victorians by visiting Blist's Hill Victorian town.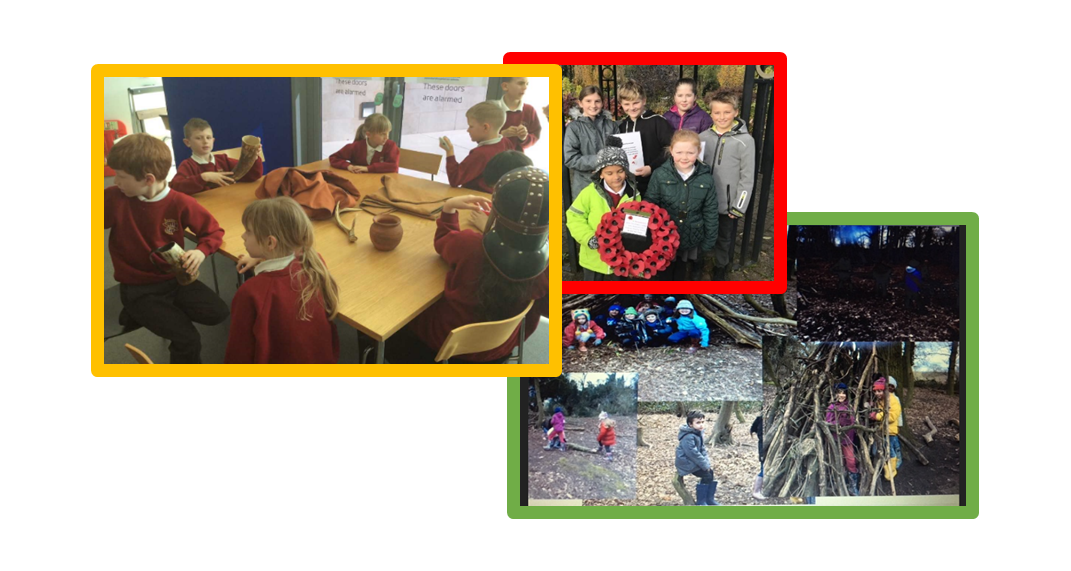 Assessment for learning 
Children demonstrate their ability in history in a variety of different ways. Younger children might, for example, talk about something that they have done in the past or act out a famous historical event. As children get older, work is much more focussed on children ensuring they are acting as archaeologists; a lot of the work they produce may be discussion based but children are assessed on their ability to weigh the evidence and sift through arguments in order to draw conclusions.
Teachers will assess children's work by making informal judgements during lessons.
On completion of a piece of work, the teacher assesses the work and uses this information to plan for future learning. Written or verbal feedback is given to the child to help guide his or her progress. Older children are encouraged to make judgements about how they can improve their own work.
At the end of a term's themed work, teachers complete an Excel spreadsheet, in which topic areas are broken down into four skill domains: chronological understanding, vocabulary, questioning and subject knowledge. Children are assessed as to whether they are emerging, developing or secure within these domains. This is used to provide accurate information to other teachers, the history subject leader and learning support assistants termly and during times of transition. The History subject leader keeps samples of children's work in a portfolio.
SMSC
Through a comprehensive study of history we integrally cover core British values. History aids and supports spiritual development of children by developing their sense of curiosity. Our enquiry based view of history encourages children to question events from the past and what may have happened if events had different outcomes. Also, as a result of 'The collaboration for success' alongside Burnwood and Ball Green Primary school, children can consider primary sources and artefacts to gain a greater perspective of people who lived during the period and who may have produced these objects.
On a regular basis within history, children develop their moral consciences by engaging in a range of activities which encourage them to consider both moral questions and dilemmas. Often beliefs in the past will be different than those held today, with children exploring the notions of compassion and empathy for those who have made the decisions. For example, one activity which is regularly applied within history lessons are conscience alleys. Conscience alleys see children form a line both for and against a certain decision, with children in the line giving their valued opinion on either side. Their opinion is based on their understanding/empathy of the era.
Also, throughout our history curriculum, children's social development is supported. This is implemented through contrasting different periods of the past to our 'modern day world'. On a regular basis, for example through warm-ups, children explore similarities and differences between different ages. Furthermore, history also offers lots of opportunities for children to consolidate their own social development through teamwork tasks and collaborative projects. We encourage all of our children to engage in discussion to forward their own ideas and build on those of others. Our curriculum also encourages and supports children in identifying their own locality in history and how the past has impacted the region today.
Finally, history at Hillside promotes cultural development by giving children the opportunity to learn and study about people from different cultures throughout our units on world history. These units include: the Mayans, the Egyptians and the Greeks Through our comprehensive study of British history, children are also supported to consider how other cultures have had an impact on the current British culture.